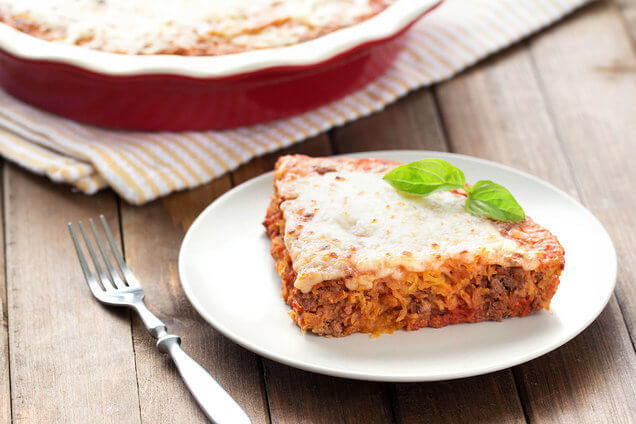 1 spaghetti squash (at least 4 1/2 lbs.)
1 lb. extra-lean ground beef
2 cups canned crushed tomatoes
1/2 cup (about 4 large) egg whites
Seasonings: onion powder, garlic powder, salt, Italian seasoning
Preheat oven to 400 degrees. Spray a large pie pan with nonstick spray.
Microwave squash for 6 minutes, or until soft enough to cut. Once cool enough to handle, halve lengthwise; scoop out and discard seeds. Fill a large baking pan with 1/2 inch water and place squash halves in the pan, cut sides down.
Bake until tender, about 40 minutes.
Meanwhile, bring a large skillet sprayed with nonstick spray to medium-high heat. Add ground beef, and season with 1/2 tsp. onion powder, garlic powder, and 1/4 tsp. salt. Cook and crumble for about 5 minutes, until fully cooked. Transfer to a large bowl.
Remove squash from oven , but leave oven on. Use a fork to scrape out spaghetti squash strands. Place strands in strainer to remove excess moisture, and thoroughly blot dry. Transfer 5 cups squash strands to the large bowl.
Add canned crushed tomatoes, egg whites, and 1 teaspoon each of onion powder, garlic powder, and Italian seasoning. Mix thoroughly. Transfer mixture to the pie pan and smooth out the surface.
Bake until slightly firm, about 25 minutes.
Let cool for ten minutes before slicing.
Baked Buffalo Cauliflower A fun and easy appetizer or snack made with just a few simple ingredients. Fully loaded with …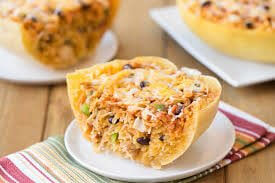 Chicken or Beef Stuffed Spaghetti Squash Another delicious treat utilizing healthy spaghetti squash! Ingredients 1 spaghetti squash 2 boneless, skinless …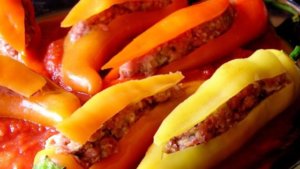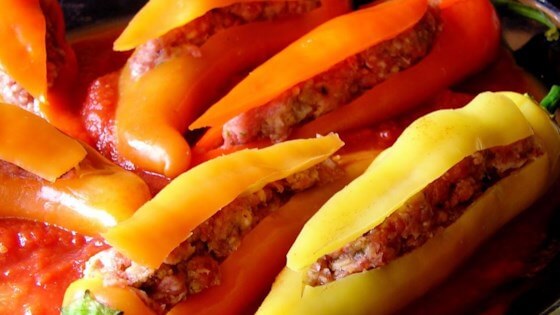 Stuffed Banana Peppers A classic recipe, normally using Italian sausage, has been revamped for our Natural Fit program.  Using ground …